AMPERIUM LIVE is emulator of guitar tube amplifier with stereo FX Loop and FX effects. 
DOMNA (Direct Optimized Modified Network Analysis) technology is used for modeling, which provides more precise simulation on the level of electric schematic. Processing is distributed between two DSPs: from device input to loop send mono-processing is performed on first dedicated DSP, from loop return to main outputs stereo-processing (2 channel) is performed on second dedicated DSP. DI signal from device input can be routed to right FX loop send. FX loop placing can not be changed. Control possible directly from device as well as remote by using USB or Bluetooth connection. In later case control is available from mobile devices. It should be noted that IR (impulse response) upload only possible with USB connection.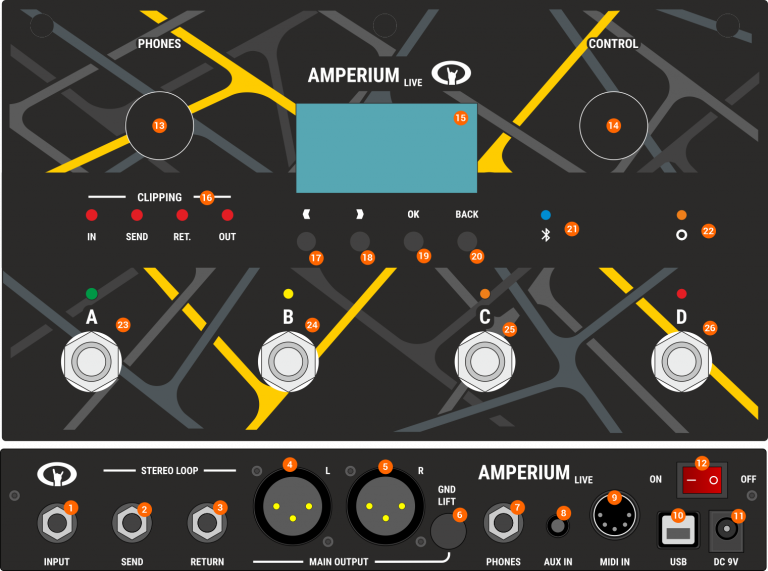 Guitar INPUT.

SEND.

RETURN.

Main output LEFT – balanced.

Main output RIGHT – balanced.

Ground Loop switch for Main outputs.

Headphones output or unbalanced stereo output

AUX input.

MIDI IN.

USB.

Power IN – DC 9V.

Power ON/OFF switch.

Headphones Level.

Main Control encoder.

LCD.
Clipping indicators for input, send, return and output.

Page Left button.

Page Right button.
OK/SAVE button.
BACK button.
Bluetooth connection indicator
TEMPO indicator.
Scene A / Tuner foot switch.
Scene B / Favorite foot switch.
Scene C / Bank  foot switch.
Scene D / TAP foot switch. 
Dimensions : 215x125x58 mm
Weight : 1005 gr
Power : 9V DC, 1.5A
Lattency : Input – Send : 1.3msec; Input – Output : 2.2 msec.

Windows 64 bit

MacOS 64 bit Intel/ARM

Firmware

Android 64 bit